Flavor Manufacture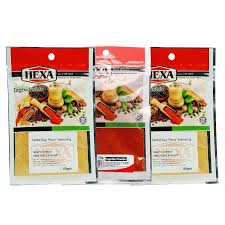 Krisanya Sdn. Bhd. was formed in 1997 manufacturing flour and spice products. Their customers include retail outlets, supermarkets, hypermarkets, wholesalers, and food processors & manufacturers.  All products certified to be halal, clean and excellent in quality.
Hexafood products
retail products

have three types such as

spices, herbs

and

seasonings

.  

ground mix spices

combination of specific ingredients. Ground mix spices usually include a balance of all or some of the following ground spices: Cinnamon,Cardamom, Coriander seed, Caraway, Nutmeg, Ginger, Cloves, All spices and Mace.  

ground spice

are carefully choose from fresh high volatile oil content spices to ensure their sharp aroma and nuanced flavor.  

Herbs

mostly imported from middle eastern countries.  HEXA herbs are precisely picked and slowly dried to preserve the best possible flavor.  Grab some fragrant and aromatic cooking flavors (i.e. thyme, rosemary, basil, bay leaves, oregano, tarragon, mint and natural parsley).
For more information about Spices, Herbs & Seasonings Manufacturer, please visit https://www.hexafood.com/