Organo Asia provide various type of Water Treatment Equipments such as RO Membrane, Cartridge Filter, Ion Exchange Resin, and Tohkemy Products in Malaysia.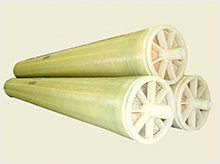 RO Membrane is designed and manufactured to meet the high level requirements of pure and ultra pure water for industrial application. This membrane is made of thin film composite (TFC) polyamide which consists of a porous support layer and a thin film dense layer.

Organo Asia offer new generation of melt blown cartridge filter and pleated cartridge filter with unique design and construction have resulted in economical filters that provide maximum efficiency and durability of the filters.
For more about Water Treatment Equipment, please visit http://www.organoasia.com/main/our-products/water-treatment-equipments-consumable-parts/
ORGANO (ASIA) SDN. BHD.
Lot 49, Jalan Bagan Terap 26/11,
Kawasan Perindustrian HICOM, Seksyen 26,
40000 Shah Alam, Selangor, Malaysia.
Tel: +603-5191 6666
Fax: +603-5191 6707/08
E-mail: webenquiry@organoasia.com